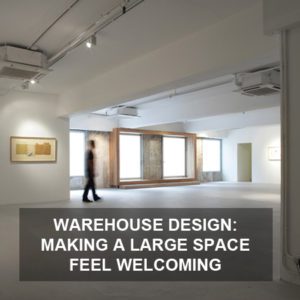 When considering a functional warehouse design, a number of factors come into play. What is the space going to be used for? How can it be transformed into something that is convenient and comfortable to both the occupants and their visitors? How can a large, empty space be made to feel welcoming?
Here are a few examples of different types of warehouses (from the news as well as our portfolio) along with explanations as to why they work.
Heavybit Industries – San Francisco, California, US
According to a report in Architectural Record, when faced with the dilemma of how to convert a warehouse into a communal space for cloud developers in 2012, CEO James Lindenbaum of Heavybit Industries enlisted the help of IwamotoScott Architecture. Like the name, Lindenbaum wanted a building that looked heavy and serious on the outside, in order to show the world that cloud development is a real thing.
Starting with a large open space on the ground level that was totally disconnected from the upper floors, the architects were able to divide that space into a common room with platform seating, as well as a conference room, kitchen, and a bike storage area that was defined by its refined wood wall. Upstairs, walls were removed to create open work stations. Sliding polycarbonate doors let in light. On the top level, breakout space was created using industrial rope and electrical conduit to maintain the heavy image, while providing space between the strands.
Osage Open – Kwun Tong, Hong Kong
In an industrial area of Hong Kong, we sought to create a useful indoor/ outdoor art gallery space for our client, Osage Gallery. We played on the existing concrete textures of the warehouse, incorporating it into the design through the use of a large drifting wooden box that can either be used as a unique art piece all on its own, or a functional element as a step in the gallery.
The passageway was created to provide a fluid connection from the inside to the outside. With the exception of the wooden box, the inside area of this facility features spare white walls and plentiful lighting, ensuring that the focal point of the interior is the art, itself.
Residential Warehouse Conversion – Abbotsford, Victoria, Australia
With converting a commercial warehouse to a residential space, an emphasis was place not only on preserving the original industrial aspects, but also how to transform them into a cozy area. Warm hardwoods were placed alongside existing brick walls. Brightly colored rugs and accents — along with both natural and provided light — add coziness to concrete-floors and high, industrial beams.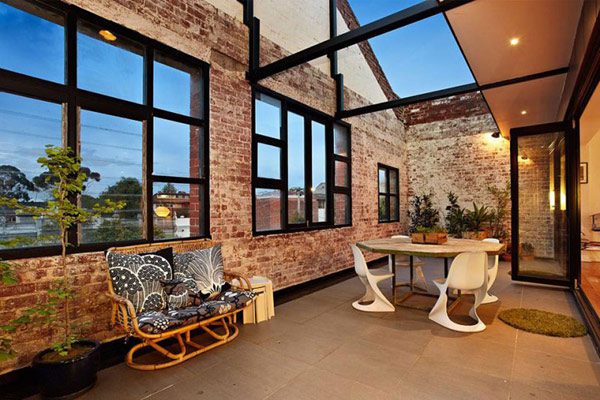 All three levels of this home — one of several converted warehouses listed and staged by the prestigious realty firm RT Edgar — provide unique features. A courtyard next to the bedroom and study on one floor, an open-plan living and dining space on the next, a master bedroom that takes advantage of the city views on the next.
Warehouses give you ample space for design. The challenge, then, becomes making that space something that feels warm and inviting. For more information on warehouse design or to talk to us about your next project, contact us.