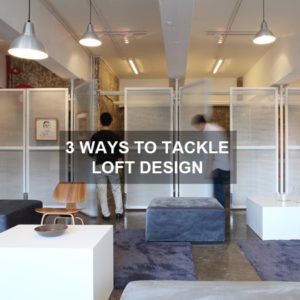 When looking at loft design, there are a few common challenges that should be considered: How does one deal with the industrial structures? Or how can space be redefined in changing situations? Here are three projects that approach warehouse and loft design in different ways, due to the functional and design needs of each client.
Oriental Warehouse Loft, for duplex-home living: This warehouse-cum-duplex in San Francisco took advantage of the natural wood beams and bare concrete walls to provide a sense of openness throughout the space. With window panels that make up the entire exterior wall, and clear, glass guardrails on the mezzanine allowed for an uninterrupted line-of-sight from upstairs to downstairs. With the mix of contemporary furniture, simple shelving, sleek finishes, and integrated shelving, the loft took advantage of every space and allowed it to flow gracefully throughout the loft. Overall, it allowed for a grand sense of space.
WCH 18A, for multi-purpose entertainment: This Hong Kong conversion was done in a former tea storage factory, and was designed to meet the needs of a fluctuating space that would serve as a private art gallery, social space, and weekend getaway. The movable metal-mesh panels helped create less or more space for gatherings that fluctuated in size, while also allowing for various pieces of art to be hung and displayed. The large windows lining the exterior wall, plus the outdoor terrace allows for lots of natural lighting. The design of the renovation took advantage of the warehouse's structure and materials by integrating and laying bare the hard walls, floors, and metal fixtures. To add softer textures to the industrial features, soft rugs and plush seatings created a comfy atmosphere. Overall, the openness and simplicity to the floor plan allows for easy changes.
Labahou project, as a creative household: This contemporary loft converted from a historic paper mill in France shows the simple marriage between industrial and rustic designs, in order to produce a peaceful setting for the family inhabiting the space. With the mix of metal structures in contemporary styles (such as the staircase) and natural wood beams, flooring, and furniture, the loft spaces created a nice contrast between natural and industrial, technology and simplicity. In addition, the white, black, and brown color schemes made the rooms brighter and bigger to the eyes. The large windows and multiple entrances to the patios helps facilitate an ease of movement from indoors to outside patios, leaving a peaceful imprint to the entire structure.
Finding that intricate balance between industrial and contemporary is one of the challeging, yet creative parts to loft or warehouse design. For more design ideas, contact us.