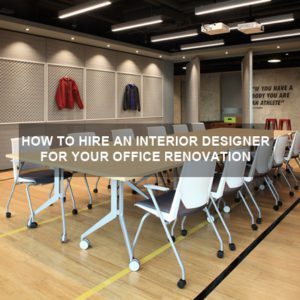 Are you preparing for an office move or renovation? You know that your office space must create a professional first impression and that hiring an interior designer can help you choose a look that is perfect for your business. So where do you start? Here are some practical tips that will help you hire an interior designer for your office.
Understand what an interior designer will do for you.
Setting clear expectations will help you find the right interior designer for your office project. How much involvement would you like to have in the design process? What does your vision of a perfect office entail? The right designer will spend time with you, discussing the needs of your office and putting together a detailed plan that incorporates these essentials.
The designer will also consider your plans for growth, ensuring that your office can expand with your business. A skilled interior designer listens to your ideas, gains a true understanding of your business and presents options that are customized to meet your expectations. The right interior designer will make your vision a reality in a way that meets your budget and aesthetic expectations.
Set your budget.
It's imperative that you know how much you'll have to invest in the project. The right interior designer will help you understand your project costs and plan for additional unexpected expenses. Having a good feel for the numbers going into the project will ensure that you find the right fit. Professional interior designers will help you manage your costs and will use their networks to find you savings.
View their portfolio.
One of the best ways to get a feel for the abilities and style of an interior designer is to view their portfolio. Taking a look at their website is a good start, but taking things a step further and reading reviews and reaching out to former clients can help you make an informed decision.
Once you have a candidate in mind, agree on a schedule and fee that works for both of you. The interior designer will work with you to scope out the work and create a contract that is clear and concise.
If you are ready to move forward with your office project, contact us to discuss the design process.