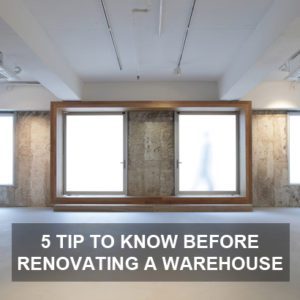 It's has become a trend to take old commercial warehouse spaces and repurpose them, such as converting it to loft apartments, restaurants, or office spaces. Before shelling out money to rent or purchase a warehouse space you've been eyeing, here are some tips and things to consider.
Purpose. What is the purpose of conversion? Is the current condition fit for the purpose, or will additional work need to be done? The needs from apartments, to restaurants, storage units, to office spaces can vary greatly, and the current condition may require a lot of time, effort, and money to get the unit where you want it to be.
Usage. This bring us to the next question, what type of usage is allowed for the unit. One of the most important things is to understand the zoning, rules and regulations of the building itself. What is included, and what is the owner usage when you rent or purchase the unit you are considering. If you are purchasing, is renting it out ok? If you plan on living in it, is the building fit for a dwelling?
Maintenance. Maintenance and upkeep for short and long term should be considered carefully. You should check how old the building is, and if the drainage system, electrical system needs to be replaced or repaired. If not immediately, then replacing these in the future can become costly.
Safety. In addition to upkeep and maintenance, the unit and building will have safety regulations. Typically there should be fire separation between units, and if new renovation is involved, this should be included in the process.
Renovation. Is there going to be interior design planning and renovation involved? Will you be re-locating the bathroom and plumbing system? Are you adding a kitchen, and is gas allowed in the building or is it even an option? If the building has an older plumbing system or no existing gas pipes, altering them can become costly.
Unless you have a structural engineer working with you, the structure probably cannot be altered. With a bit of design and innovation, the unit's characteristics, such as raw finished walls, exposed bricks, or door ironmongery, can become a beautiful feature and focal point for the space.
For more ideas on what you need to do before you start your warehouse renovation, contact us today!