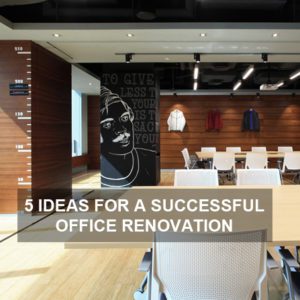 Whether you're just moving into an office or your current one is in need of some upkeep, executing a successful office renovation can be tricky business. The good news is that with some forethought and planning, everything can run smoothly and you can enjoy your newly renovated office in a short amount of time.
Here are 5 ideas to help make the process easier:
Clear goals: While your main reason for renovating might be "this office is just too ugly," you're going to need to dig deeper when it comes to defining your goals for renovation. Are you renovating the space for you and your employees? Or are you trying to make the space more comfortable for clients? Is your main reason for renovation cosmetic or are their structural changes that need to be made? All of these factors need to be identified ahead of time so that you can create a realistic budget. Make sure everyone involved in the renovation is on the same page when it comes to goal-setting.
Think long-term: You've identified your current goals for the renovation, but what is your long-term plan? Do you anticipate staying in this office space for 5 or more years? Does the current renovation give you room to grow as your business grows? If not, will you be able to recoup some of the costs from the renovation?
High-ball your budget: There's nothing worse in a renovation than coming across an unexpected expense along the way. To make things easier when the expected unexpected comes up, set aside a contingency of 10 percent so that your whole project doesn't become undone.
Timing: An office renovation is unique in that it impacts a large group of people. You'll want to make sure your renovation isn't timed during your office's busiest season, and you also want to make sure that contractors will be available to get the work done quickly so the project doesn't drag on longer than necessary.
Identify wants versus needs: It's tempting to go all-out during a renovation and spring for extras like aerodynamic office chairs or the premier top-of-the-line copier. However, it's important to stay focused during your renovation and only spend money on things you need, not things you want. You can add in extras like expensive chairs later, once you have enough money to cover those extra costs.
Our design team can help you choose a design for your office renovation that matches your goals and budget. For more information on how we can help, contact us today!